Joe Rogan is no stranger to saunas. In fact, he's a self-proclaimed sauna addict.
Rogan first got hooked on saunas after experiencing the benefits firsthand. Since then, Rogan has become an advocate of saunas, regularly talking about their virtues on his popular podcast

and posting stories to his Instagram

from the heat of the sauna.
Joe Rogan's typical sauna routine is to go to a 180°F (82°C) sauna every day for 25 minutes. He found that regular sauna use helped him to sleep better, recover from training injuries faster, and overall feel more energetic. He also mentioned

that he does some of his best and most honest thinking in the extreme physical vulnerability of the sauna. 
If you are looking for Joe Rogan's sauna routine, he wrote his routine in an Instagram post:
I wonder which phone Joe uses in the sauna since bringing a phone into the sauna can cause it to overheat.
How Joe Uses Saunas to Improve His Health
When it comes to improving his health, Joe is a firm believer in the power of the sauna.
He's been using them regularly for years, and he credits them with helping him to stay in shape and feel his best. Not only do saunas help to detoxify the body, but they also promote relaxation and improve circulation.
For Joe, the benefits of regular sauna use are well worth the effort. In addition to feeling better physically, he also finds that he sleeps more soundly and has more energy during the day. While saunas may not be for everyone, they've definitely made a positive impact on Joe's life.
The many benefits of using a sauna (From Experts on the Joe Rogan Experience Podcast)
Joe Rogan is a man of many talents. Not only is he a comedian, actor, and martial artist, but his podcast is also an excellent source of information on all things health and fitness.
Rogan has brought in many experts to his podcast, including longevity researcher Dr. Rhonda Patrick and a New York Times bestselling author and science journalist Max Lugavere, to talk about the many benefits of saunas, cold plunges, and heat stress to your body.
Watch the clip from the episode with Dr. Rhonda Patrick:
The full episode is available on Spotify (just a fair warning, it's over 3 hours long!)
The clip from the episode with Max Lugavere:
The full episode with Max is available on Spotify

as well.
He even went so far as to call them "one of the most important tools" for overall health and well-being. While there's no denying that saunas offer some amazing benefits, it's important to remember that they're not a magic bullet. As with anything else, moderation is key. So if you're looking to add a sauna to your wellness routine, be sure to use saunas at recommended temperatures and talk to your medical professional.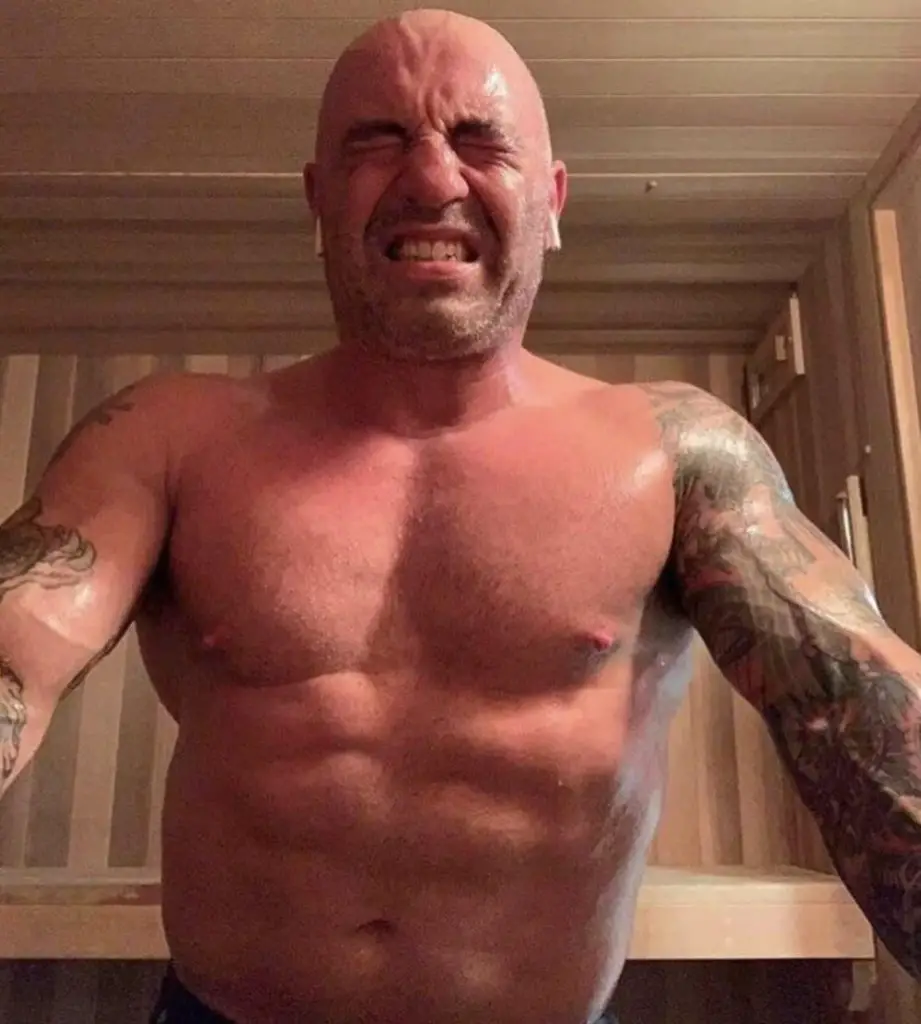 It looks like Joe is wearing his AirPods in the sauna, which we definitely do not recommend because they might overheat!
What Sauna Does Joe Rogan Have?
Joe recently wrote a post on Instagram

where said he was gifted a new sauna from a company called Salus Saunas, which is a manufacturer of premium saunas.
In the same post, he said he also uses a cold plunge from a company called BlueCube Baths.
Conclusion
Joe Rogan is a huge fan of saunas, and for good reason.
Saunas offer a wide range of health benefits, from weight loss to detoxification to improved cardiovascular health.
Joe's sauna routine is 25 minutes at 180°F (82°C) every day.
In this article, we've shared Joe's top tips for getting the most out of your sauna experience. Do you have a favorite tip? Let us know in the comments!