Ready to take your workout game to the next level? Look no further than Equinox – the elite fitness club that takes your fitness journey to new heights!
Equinox gym is a high-end fitness club that provides a premium workout experience, but with membership prices starting from $185 a month, you would expect top-of-the-line equipment and service.
One of fitness enthusiasts' most frequently asked questions is, "does Equinox have a sauna?" The answer is a YES! Equinox offers not just saunas, but also steam rooms, hot tubs, and swimming pools in most of its locations. This high-end fitness club is all about providing a luxurious workout experience that goes beyond the norm.
Apart from saunas, steam rooms, and pools, Equinox provides access to premium fitness equipment, personal training sessions, and a range of fitness classes like yoga, pilates, and strength training. Members can also enjoy exclusive services like spa treatments, a juice bar, and luxury locker rooms. The gym's signature service, The Spa, offers customized massages, facials, and other wellness treatments.
So, if you're looking for a gym that offers a sauna and a whole package of luxury fitness amenities, Equinox is your go-to destination.
What is Equinox?

Sauna: Yes
Pool: Yes
Steam room: Yes
Hot Tub & Jacuzzi: Yes
Spa: Yes, for an extra fee
Membership: $185-$300 per month + initiation/annual fee
Equinox is a luxury fitness brand that offers its members high-end facilities, expert trainers, and a range of classes and amenities. The brand has a reputation for being expensive, but for many fitness enthusiasts, the cost is worth the investment.
Equinox membership pricing varies depending on the location and membership type but typically ranges from around $200 to $300 per month. The brand also offers various membership packages that can include additional benefits such as access to their spa, personal training sessions, and discounts on merchandise.
Equinox has over 100 locations across the United States, with a heavy presence in major cities such as New York, Los Angeles, and Chicago. However, the brand also has locations in several other states, including Florida, Massachusetts, Texas, and Washington.
Check out this map displaying Equinox locations in Manhattan. Currently, Equinox has a total of 106 clubs. With 19 locations in Manhattan, this means that nearly 18% of all Equinox locations can be found in that area.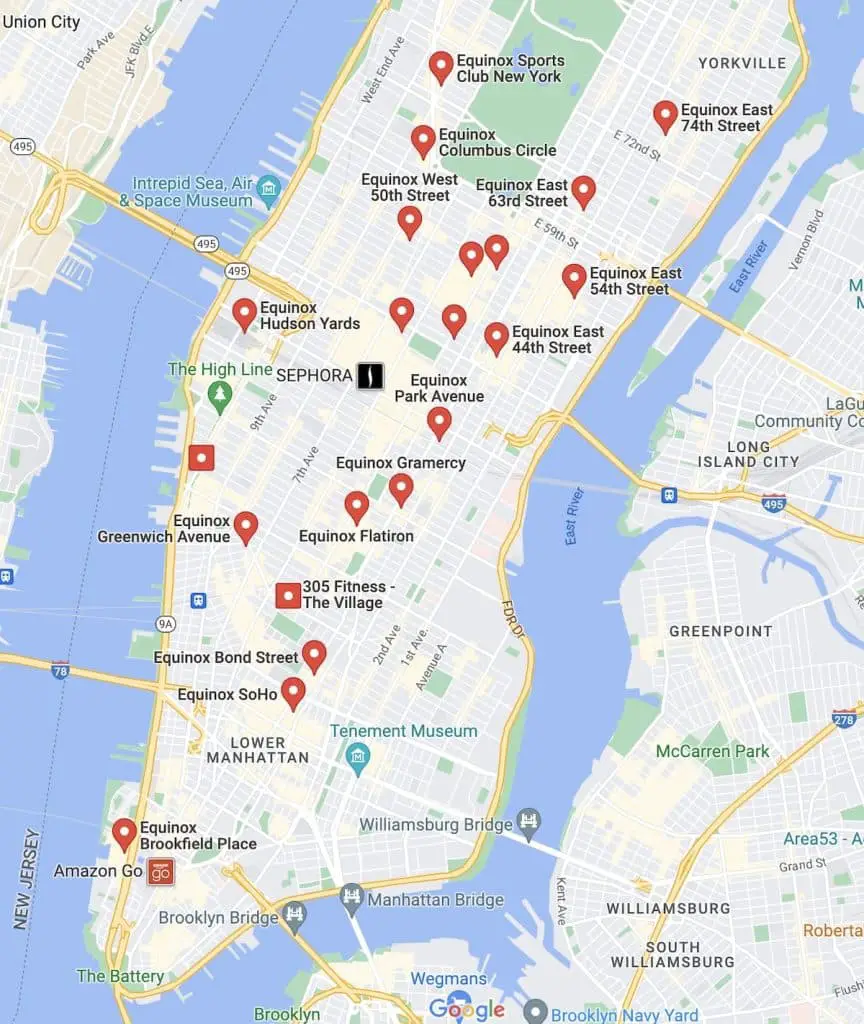 In addition to its fitness facilities, Equinox also offers its members access to its digital platform, Equinox+, which includes on-demand workouts, live classes, and personalized programming. The brand also has its own line of fitness apparel and accessories.
Overall, Equinox caters to a high-end fitness market and offers an elevated experience for its members. While the cost may be prohibitive for some, those who are willing to invest in their fitness and wellness can expect a top-notch experience at Equinox locations across the country.
Does Equinox Have a Sauna or a Steam Room?
So, you're wondering: does Equinox have a sauna? Well, my fitness-loving friend, the answer is a resounding YES! Equinox understands the importance of post-workout relaxation and what better way to unwind than by sweating out all your stress and toxins in a luxurious sauna?
Not only does Equinox have a sauna, but they have a variety of different sauna options to choose from.
Some locations offer traditional dry saunas, while others have the increasingly popular infrared saunas. And for those who prefer a steamy experience, Equinox also has steam rooms available at select locations.
Do They Also Have Hot Tubs and Jacuzzis?
But wait, there's more! Equinox's amenities go beyond saunas and steam rooms. Many locations also have hot tubs, cold plunge pools, and even an Arctic-inspired ice room. So, you can treat your body to the full range of temperature therapy and leave it feeling relaxed, rejuvenated, and ready to take on the world.
So, to sum it up: Does Equinox have a sauna? Yes, and so much more. So, go ahead and book that workout, and don't forget to reward yourself with a little post-sweat session in the sauna. Your body and mind will thank you.
What to Wear to the Sauna at Equinox Gym?
A clean bathing suit or towel is recommended to wear in the Equinox sauna.
Never go in the sauna with sweaty gym clothes or without showering. It's important to follow proper sauna etiquette to ensure a great session for all. Going naked is not permitted according to the Equinox dress code.
? Tip: Check out our complete guide to what to wear in a sauna for more information!
What Other Gyms Have Saunas?
Looking for a gym with a sauna? In addition to Equinox, other popular gym chains like LA Fitness, LifeTime, YMCA, and 24-Hour Fitness also offer saunas and other temperature therapy options.
However, if you're on a budget and looking for a cheap gym option, you may want to skip Planet Fitness. This popular chain doesn't have saunas in almost any of its locations.
When choosing a gym, it's important to do your research and find the right fit for you. Not every gym offers the same services, so make sure to check out what each gym has to offer before making a commitment. But if you're wondering "does Equinox have a sauna?" the answer is a definite yes!
Does Equinox Have an Infrared Sauna or Red Light Therapy?
So, does Equinox have an infrared sauna or red light therapy? The answer is yes, they do!
Equinox is known for its high-end facilities, which offer its members a range of sauna options. In addition to traditional saunas and steam rooms, many Equinox locations have infrared saunas. These saunas use infrared light to create heat, which is said to have a range of health benefits, including improved circulation, detoxification, and relaxation.
And if you're looking for red light therapy, Equinox has got you covered there too. Red light therapy involves exposing the skin to red light, which is believed to have benefits for the skin, including reducing inflammation and improving collagen production. Many Equinox locations offer red light therapy as part of their spa services.
Does Equinox Have a Pool?
Yes, Equinox has a pool! And let me tell you, it's the perfect spot to cool off after a tough workout or just chill out on a lazy day. This ain't no kiddie pool either – we're talking a full-sized, sparkling clean oasis complete with lanes for lap swimming and plenty of loungers for soaking up the sun.
I don't know about you, but for me, swimming is the ultimate low-impact exercise that still manages to get my heart rate up and work those muscles. And when you're doing it in a luxurious Equinox pool, it just feels that much better. Plus, there's something undeniably glamorous about emerging from the water, dripping in droplets of H2O, and feeling like a million bucks.
So if you're a water baby like me, or just looking for a new way to stay fit and fabulous, come on down to Equinox and take a dip in the pool. Trust me, you won't regret it!
Does Equinox Have a Spa?
Yes, Equinox does have a spa! The spa experience at Equinox is top-notch, offering a variety of services from massages to facials. The atmosphere is relaxing and rejuvenating, making it the perfect place to unwind after a workout or a long day at work. The staff is friendly and knowledgeable, and they'll help you choose the perfect treatment to meet your needs. Whether you're looking for a quick pick-me-up or a full day of pampering, Equinox's spa has got you covered.
Amenities at Equinox – What Amenities Do They Have?
Here are some of the top amenities offered at Equinox:
State-of-the-art fitness equipment
Group fitness classes, including yoga, Pilates, cycling, and more
Personal training sessions
Luxurious locker rooms with saunas and steam rooms
Towel service and complimentary toiletries
Juice bars and cafes
Wi-Fi and comfortable lounge areas
Swimming pools and hot tubs
Basketball courts and other sports facilities
Whether you're a fitness enthusiast or just looking for a place to unwind, Equinox has something for everyone.
From the latest in exercise technology to relaxing spa amenities, Equinox has all the tools you need to achieve your fitness goals and feel your best. So why not check it out and see what all the fuss is about?
Is Equinox Worth it?
Deciding if Equinox is worth it for you depends on your personal fitness goals and budget. Here are some important factors to consider when making your decision:
Price
Equinox is generally more expensive than other gym options, with monthly memberships starting at around $200. However, the price includes access to a wide range of amenities, classes, and top-of-the-line equipment.
Amenities
Equinox offers a variety of amenities, such as luxurious locker rooms, group fitness classes, swimming pools, saunas, and steam rooms. These amenities are designed to create a high-end fitness experience.
Locations
Equinox is primarily located in big cities, so it may not be a convenient option for those who live in rural or suburban areas.
Opening Hours
Equinox locations are typically open from early morning until late at night, providing flexibility for those with busy schedules.
Equinox is not a 24-hour gym, so make sure their opening hours fit your schedule before signing up!
Wait Times
During peak hours, some Equinox locations can become crowded, leading to wait times for equipment and classes.
Quality of Equipment
Equinox prides itself on offering the latest and greatest in fitness equipment, which can make a significant difference in the quality of your workout.
Conclusion
Overall, if you're looking for a premium fitness experience and have the budget to support it, Equinox is definitely worth considering. With its high-end amenities, quality equipment, and convenient hours, it can be a great investment in your health and well-being.